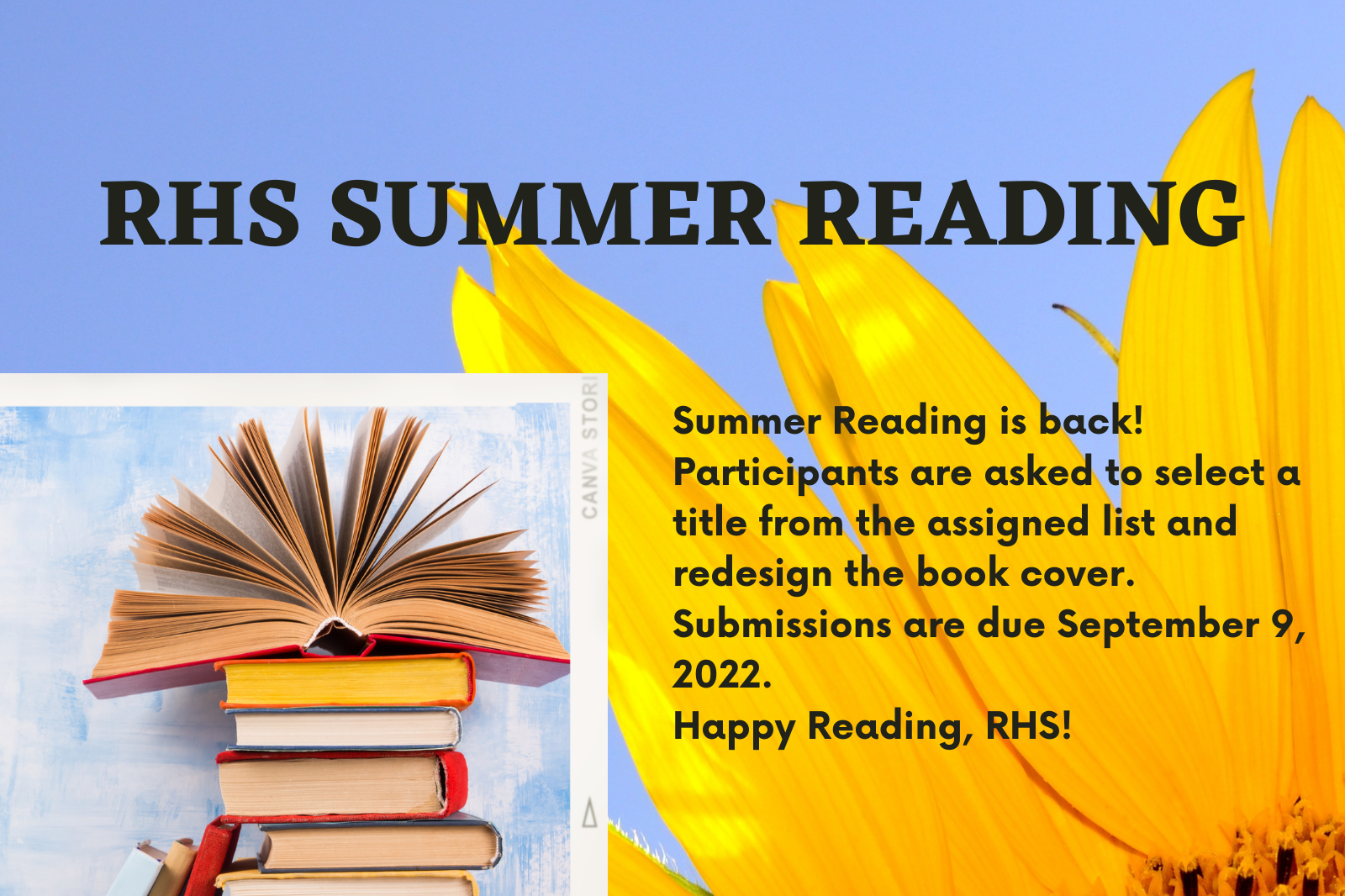 This year's optional (but strongly encouraged!) summer reading assignment can be found below. Recommended reads are available for you on Sora, with the exceptions of Life in a Jar and The Happiest Man on Earth. Email Ms. Kemp with any questions!
Assignment:
Students are encouraged to participate in summer reading prior to the start of the 2022-2023 school year. Selected titles are below. Students who participate are asked to redesign the cover of the chosen book based on their interpretation of the work. The redesigned cover will have to include the following components:
Title

Author

Visual representation of a theme within the book

Meaningful quote that reflects an important aspect of the book. Students should be able to explain why the quote was chosen during our RHS Library Takeover in September.

Students will use Canva to complete their projects. Completed covers should be emailed to jkemp@rocklandschools.org by September 9th. The library takeover will occur Friday, September 23rd.
All students who complete the summer reading assignment are invited to participate in the Library Takeover! Students will be called down in September during G block to participate in a book chat and see their redesigned covers on display. Participants are encouraged to invite staff members to attend.
Suggested Titles are:
Einstein's Dreams by Alan Lightman

Storm in a Teacup: The Physics of Everyday Life by Helen Czerski

The Many Worlds of Albie Bright by Christopher Edge

I Must Betray You by Ruta Sepetys

The Happiest Man on Earth by Eddie Jaku

Life in a Jar: The Irena Sendler Project by Jack Mayer

How to Stop Time by Matt Haig

Breaking Night: A Memoir of Forgiveness, Survival, and My Journey from Homeless to Harvard by Liz Murray

The Field Guide to the North American Teenager by Ben Philippe

The Curious Incident of the Dog in the Night Time by Mark Haddon

The Grapes of Math: How Life Reflects Numbers and Numbers Reflect Life by Alex Bellos

The Housekeeper and the Professor by Yoko Ogawa
Summer Reading Assignment 2022
Summer Reading Flyer 2022
Summer Reading Flyer (Portuguese) 2022
Summer Reading Choices 2022