HALL OF FAME INDUCTEES 2019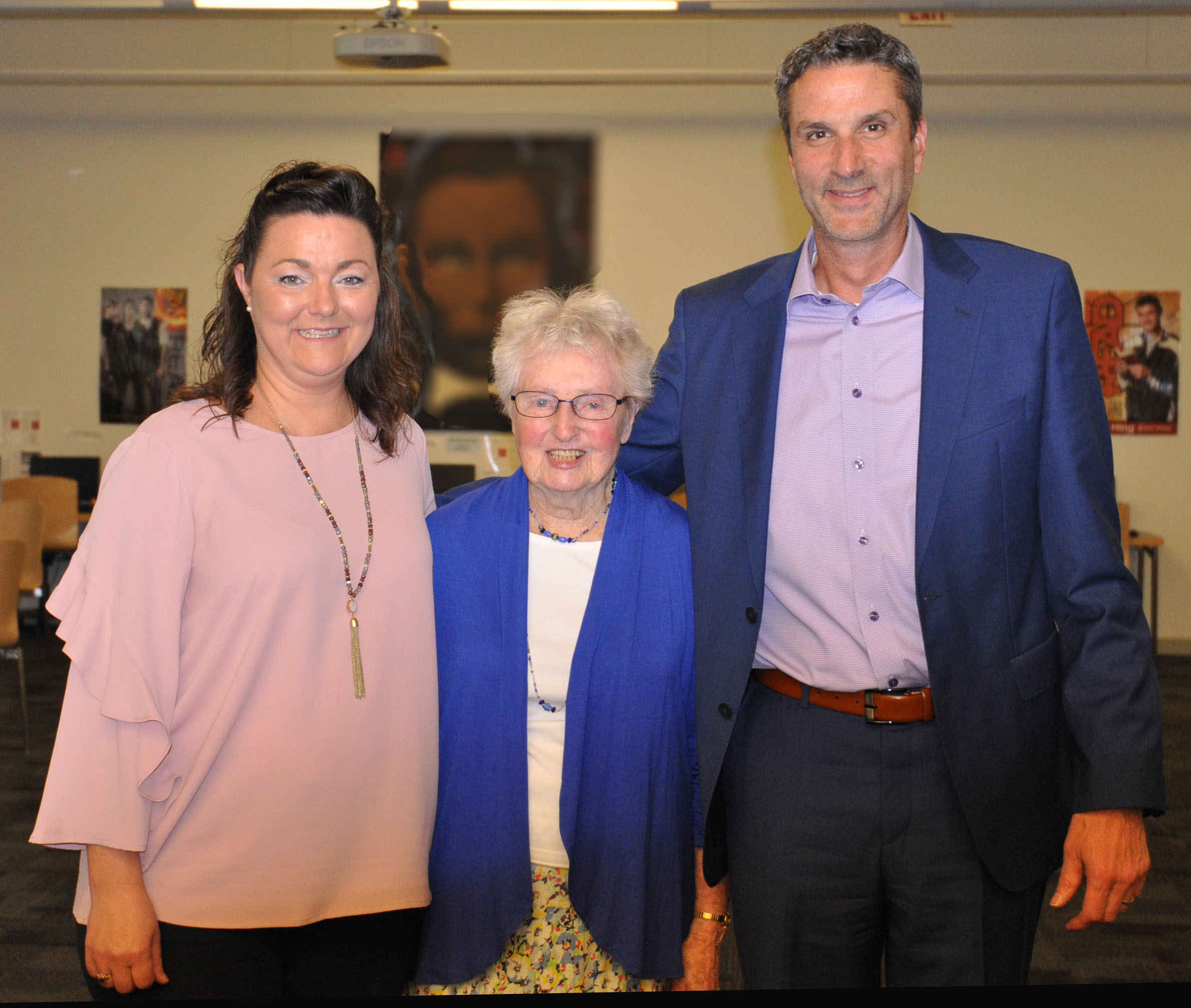 From left: Leeza Connor Desjardins, Elizabeth "Betty" Damon Beecher and Steven R. Magoun were inducted into the Academic Hall of Fame on June 5, 2019.
ROCKLAND - Three alumni were inducted into the Rockland High School Academic Hall of Fame on June 5, 2019. The ceremony took place before the annual Underclassmen Academic Awards presentations.
First to be recognized was Elizabeth Damon Beecher, a 1942 graduate of Rockland High School. Beecher, now 95 years old, was an honor roll student at RHS. She became a nurse after she graduated and trained at the Massachusetts Memorial Hospital School of Nursing in Boston. When President Franklin Roosevelt created the U.S. Cadet Nurse Corps in July, 1943 to quickly train new nurses after most of the nation's registered nurses were sent overseas following the attack on Pearl Harbor, she was one of 180,000 women who enlisted. Beecher described these cadet nurses as the youngest and largest group of uniformed women to serve during wartime. Beecher served from 1943-1945 at public health service marine hospitals on Staten Island and in Boston, caring for wounded Coast Guard and Merchant Marine servicemen with head injuries and loss of limbs.
She credited her teachers in Rockland, including the school nurse and her junior high principal for inspiring her to follow her dream to become a nurse. Still active, Beecher is now working with U.S. Senate leaders to pass a bill that will give the Cadet Nurses veteran status and benefits.
Second to be inducted was Steven R. Magoun - Class of 1984. Magoun is a computer software entrepreneur. At RHS he was a member of the National Honor Society. After graduation, he went on to Northeastern University where he studied in the Khoury College of Computer and Information Sciences. He graduated in 1989 with a Bachelor of Science degree in Computer Science along with a minor in business. While at Northeastern, he did a co-op with the Boston Police Department and designed a computer software system that automated the department's records. At the time the Boston Herald called him the "whiz kid" for his computer coding work.
While still a student at NU he started his own computer company called Softcode Inc. Softcode is now affiliated with Tyler Technologies, the largest software company in the country that focuses solely on computer systems for the public.
The third inductee was Leeza Connor Desjardins - Class of 1987, an art teacher at Nonnewaug HS in CT. At RHS Desjardins was active in many clubs and sports such as softball, cheerleading and the Volunteers in Peer Service. She received her degrees in art education from the University of Hartford's Hartford Art College and the University of Southern Connecticut.
During her 25+ years as an art teacher. her students have won many awards for their art work. Desjardins has also won many awards for her teaching. Most impressively, in 2018 Desjardins received the 2018 Connecticut Art Education Association's Secondary Art Teacher of the Year and the Association's Art Teacher of the Year for the State of Connecticut. Desjardins credited her former art teachers at RHS, Donna Rossetti-Bailey and the late Pat Isaac for giving her the passion for art and for teaching art.
The Academic Hall of Fame was established in 1988 by then Guidance Director, Joseph Waisgerber. In the first "class" were astronaut Brian Duffy and author George Higgins. With last night's inductees the Hall of Fame now has 98 members. Nominations for the Hall of Fame can be made by sending information to Assistant Principal Kathy Paulding at Rockland High School.
ACADEMIC HALL OF FAME 2018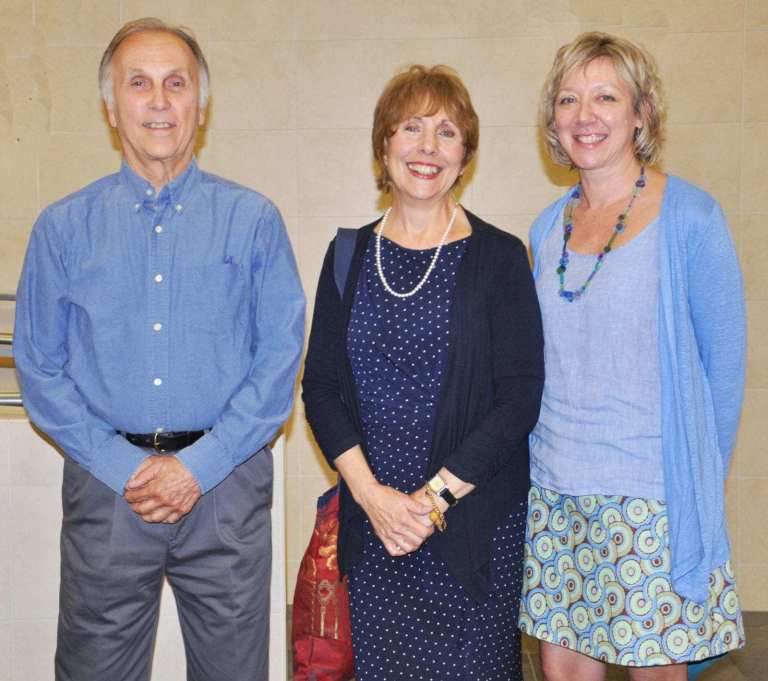 Left-to-right: Rockland High School alumni John Najarian, Class of 1960; Lucia Shannon, Class of 1969; and Catherine Hicks Worthington, Class of 1981 were inducted into the Rockland High School Academic Hall of Fame at a ceremony held on June 6, 2018.
ROCKLAND — Three Rockland High School alumni were inducted into the Rockland High School Academic Hall of Fame last week.
The three Rockland graduates were honored on June 6 at the Underclassmen Academic Awards Ceremony held in the high school auditorium.
The inductees were Catherine Hicks Worthington, Class of 1981, Lucia Shannon, Class of 1969 and John Najarian, Class of 1960.
Each was an accomplished student at Rockland High School. After receiving their diplomas, they went on to earn college degrees. They all have had highly successful careers that include service to their respective communities.
"These alumni are shining examples of the type of education and life lessons that are taught here at Rockland Public Schools," Rockland Superintendent of Schools, Dr. Alan Cron said. "The students who attended the event were able to see first-hand what hard work and dedication can accomplish in their years after high school."
Catherine Hicks Worthington, who now lives in Brunswick, Maine, is a successful textile maker, artist and teacher. In high school she was also an accomplished artist and in her senior year, she won the prestigious Gold Key Award for one of her drawings in the Boston Globe Scholastic Art & Writing Awards art show. After high school, Worthington attended UMass Dartmouth where she earned a Bachelor of Fine Arts degree in textile design in 1985.
After moving to Maine in 1988, Worthington worked at Spindleworks, in Brunswick, as an arts program mentor for adults with disabilities. She now has her own studio where she paints and sews her unique textile quilts.
In her acceptance speech, Worthington credited several of her former teachers for helping her to push beyond her shyness and to follow her passion. She also encouraged student award winners in the audience to follow their passions when deciding on their futures.
Lucia Shannon's life since graduating as the "most scholarly" in her class at Rockland High School has been devoted to service to others. As Head of Adult Services for the Brockton Public Library for 42 years, she worked tirelessly to foster literacy, promote diversity and to help build a sense of community. She retired from her position last year.
Shannon graduated from Mount Holyoke College, cum laude in 1973 with a Bachelor of Arts degree, majoring in art history. She promptly earned her Masters of Library Science in August 1974.
In her acceptance remarks, Shannon thanked many of her former teachers in the Rockland Public School system who influenced her love for the arts and literacy. She encouraged students to take advantage of what she called the prep school-like education provided at Rockland High School, which prepared her very well to succeed.
John Najarian was an accomplished athlete at Rockland High School in the late 50s before graduating in 1960. In 1965, he earned a Bachelor of Science degree, cum laude, in civil engineering from Northeastern University. He is a member of the Phi Kappa Phi Honor Fraternity. In 1968, John earned an Advanced Study Degree in business administration at Northeastern University.
In his professional career, Najarian worked for Metcalf and Eddy Engineering in Boston and Wakefield from 1965-2002. As a project manager he designed large wastewater plants throughout the country. He was also the lead civil engineer on Deer Island for 10 years.
John is now involved in many community activities and recently acted as a project manager overseeing the construction for two local Habitat for Humanity homes.
In speaking to the students in attendance at the ceremony, he said that they must be prepared for challenges in life after high school where they may not be the smartest person in the class or on the job. He said that he succeeded through perseverance and hard work. His advice to "wait until after college to go to parties," was met with laughter from the students.